City Talk was a series of talks and workshops running from 2010-2011 at the former legendary shipyard B&W (Burmeister & Wain) area on Refshaleøen in Copenhagen. The idea of the talks was to learn how we, the local artist, entrepreneurs, musicians, actors, designers, architects, circus people, etc. could create a bottom-up city development in the area by inviting some of the already established forces from other places in Copenhagen to share their experience and have an informal discussion about different urban topics, while the participants afterward could do some good old networking in the bar. The events took place in the legendary underground bar and concert place, The Dragon's Lair (Dragens Hule – Thanks, Mogens and Kasper!) located in the basement of the former shipyard workers leisure club.
Organizers: Line Loklindt, Mads Ellebæk, Steen Andersen
Moderator: Steen Andersen
Poster design: Mads Ellebæk
City Talks #1 – Refshaleøen, What is That? With the urbanists from Supertanker.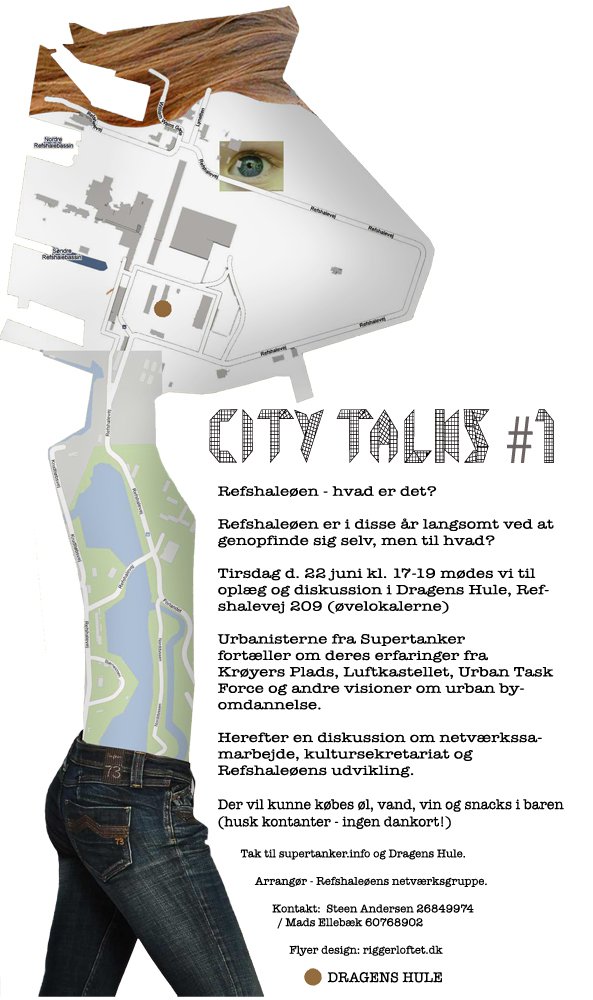 City Talks #2 – Refshaleøen meet Copenhagen Nordvest! With the creative and activist community The Candy Factory (Bolsjefabrikken) and anthropologist, from Copenhagen University, ph.d. Mark Vacher.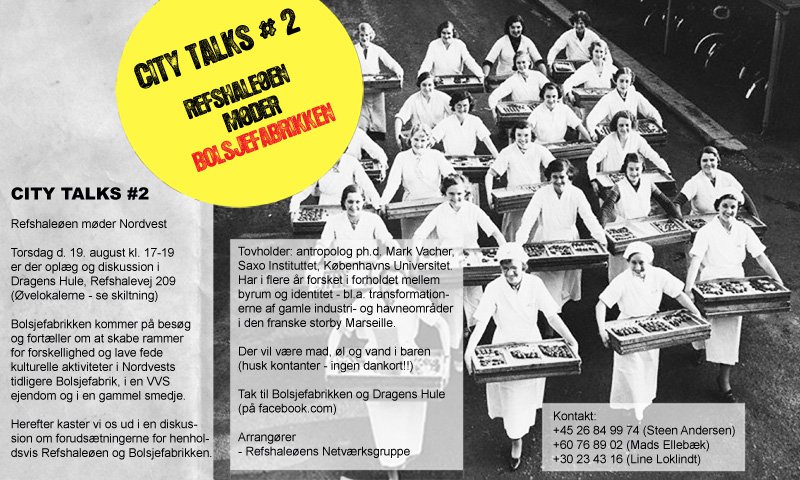 City Talks #3 – The good city, a utopia? With the landscape architects Bo Holm-Nielsen and Mikkel Zoffmann Jessen.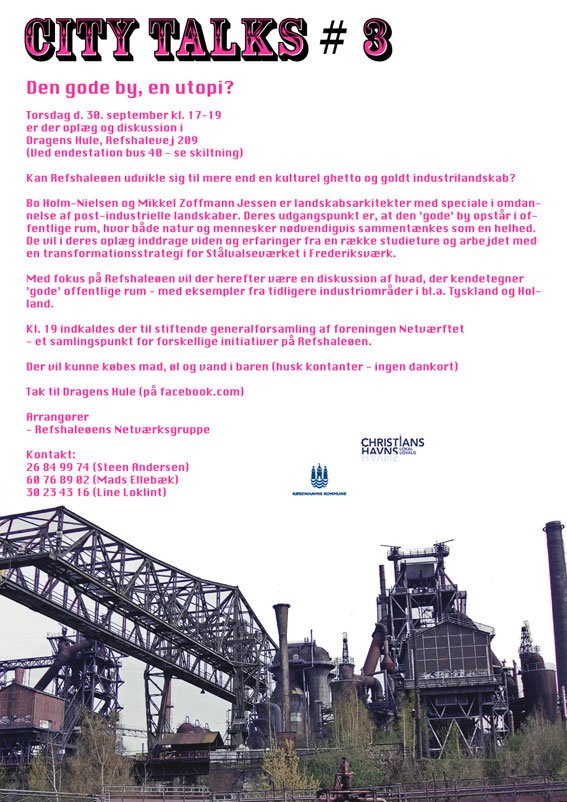 City Talks #4 – The City in the Sound – The Sound in the City! With OHOI! and Lækker Lytter (Delicious Listener) – The Mobile Love Sound System (Mobile Kærligheds Lydsystem), The Street Listen (Gaden Lytter), 2200 Love (2200 Kærlighed).
City Talks #5 – Visions og Funding – with Peter Bjerg (KPH), Rikke Rasmussen (Projektværkstedet), Luke Cooper (Wunderkammer) og Christian Fumz (givrum.nu), and music by Gunni & Nitterne.