We at Die Dada Welt have a passionate fascination with the world around us and want to participate in everything that is of interest to us. These days it is especially politics that preoccupy our minds since Donald Trump finally is leaving as president. What is he up to, what are his plans, how does he perceive the world, and what will he be doing in there future? To find some answers, we would like to invite you with us on a journey into Donald Trump's world of thinking.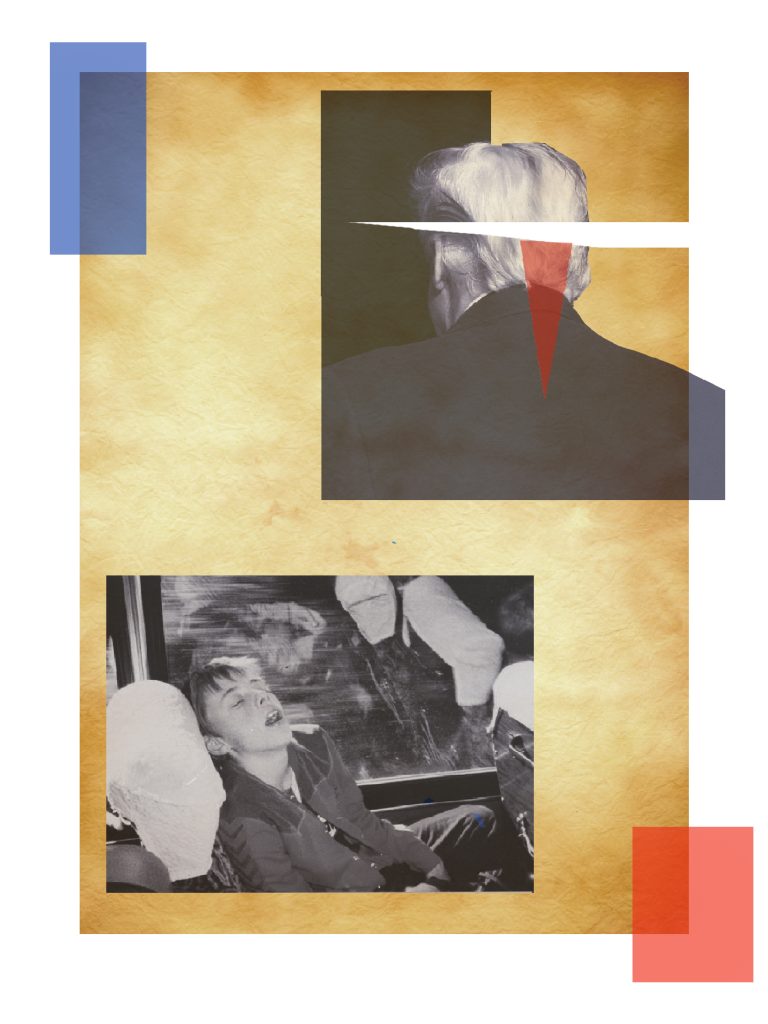 Mr. President … Mr. President … Mr. President, wake up …
… uh uh and then the world all of a sudden turned the other way around so I hit the ball all wrong … what can a man do about it … just because I'm the greatest president of the greatest country in the whole universe … no, I'm not God, only superhuman … cool and superb … it makes me so hungry to think about … stop it, Donald … don't think … act … you have people to think for you … act and consume … that's why we are put here on this wonderful consumable earth … to use it all up before someone else comes and takes it from us …
Mr. President … Mr …
… oh oh I know … I know … you don't have to spell it out … not like that supreme guy and his prayer rug … Ali Kha-something praying all the time … every word that comes out of his mouth is like soul stuff send straight from God … eating it raw, they do … it is the way of their God … it's not even fried or anything, as we Americans do … not like making a good American cheeseburger …
it would look funny … God's words made of cheese … he speaks and people goes crazy jum-jum … five times a day … down on their knees … eating all the cheese that comes out of their supreme leaders mouth … some of it sticking to his beard … he wants the best stuf for himself, that sneaking Iranian guy hide the best so he can eat it while nobody watching … no wonder they grow them beards so long … now then, where is that cheeseburger … maybe I put it in my back pocket … I'm sure hungry … all that thinking … I'll try a little prayer before I eat it, that should do it … the world will again turn my favorite way … to be hungry is sure a strange sort of feeling, it just somehow stick to you … like a cheeseburger turned upside-down … almost impossible to imagine, I'll have to think twice … else the cheese would fall out … whooops down on the dirty earth it goes … I would eat it anyway, yes, you would Donald … down on your knees boy and stuff it all in … when nobody is watching I would … in case the other kids would mock me … I hear them quiet well, when they called me a clown behind my back … I just pretend I don't … just laugh of it, Donald … such a bluff, Donald … I wonder if they have clowns or even a circus in Iran … they are always so serious … boring … that cheeseburger, where … the whole thing annoys me … the Ali Kha-guy should just know how difficult it is to be a world leader … making the decisions of who is cool and who to shoot … he has doo a really cool name … supreme leader … much better than plain old president … the supreme leader of the United States … I'll give a truck load of cheeseburgers for that title … I wonder if he ever has tried eating a cheeseburger on his prayer rug, when God was not looking … muuunch … one mouthful … what a thrill … God knew in that moment that something important disappeared out of this world … cluck cluck the supreme guy continues to pray picking up the crumbs on the rug like a hungry chicken … then he lay down on his asking-for-divine-help-rug and sleeps like a little baby while God is watching over him … uh ah I miss my bed … eating cheeseburgers in bed Friday evening after a long tiresome week where the world as alway has been turning endlessly around me … me and my cheeseburger hidden away under the duvet … alone at last …
Mr. President … President, you need to sign here … no, not there … let me hold your hand, Mr. President …
… well, it's not that other people scares me … no president or supreme leader is a match for Donald … it can doo be lonesome being so mighty and powerful … only God understands … we even became friends today … after my early lunch in the House … no don't be silly, Donald, it was not with God, but all the others, the ordinary people … just a little bit … I think, therefore we became friends … at least tiny friends … if it not was for that Putin mocking me all the time … always he tries to be greater than me … just because he once was a cool spy, and is riding on bears, and has this black killer belt and plays around with tigers … isn't that enough, I ask … he even came late … as I meant nothing … me, the supreme president … only to annoy me of course … riding into the United States of America on this polar bear of his … but still late … blaming traffic jams in Alaska and … where was it … ha ha I have the thought tickling on my forehead … ah ha yes, now I know … S … I … B … I … R … I … A … A … A …. a long shot for such a small guy, I would say … as from another dimension … coming straight from a hunting trip, he boasted … meeting nature where it is best, he said … gives him the ability to see straight through the tough things in the world … straight through the human soul … like blowing holes in people with a bazooka so you can see what they are hiding … then he smiled … or maybe, he was laughing inside of me … I wished, I had one of those bazookas … another toy for Donald … and what about our sovereignty and individual rights … that has always been a city in Russia for them … and nature … what about it … him and his nature … thinking that just because I'm an American I don't like being too close to my nature … but you thought wrong, my Russian friend … where do you think I play golf … in the American ghetto … way to much African jungle to me … we have to be civilized … that is what America stands for … something everyone else first have to learn … and then the smart-ass ruski says, that he has come to the Promised Land because he wants to show the world to his polar bear … adding, that it is not the Russians fault that the polar bears are almost extinct … not so smart, Mr. Windbag Putin … not cool at all … polar bears has to know their place in the world … everything else will make them sad … that's what happens when you miss your home … uh uh things suddenly went complicated … this yin-yang fellow from China, always interfering … saying that the polar bear is not sad, it is depressed … knowing that it and its friends will soon be bye-bye … he has seen a similar reaction with his own peoples precious panda bears … and from his pocket the yin-yang fellow take forth a communist spring roll … tiny tiny … toothpick size … no wonder these yellow guys are so tiny small … it will make the polar bear happy, he says … he even has a slogan for it: Our spring rolls are created with the strength of the united Chinese people, the wisdom of our celebrated ancestors and the gratitude of our beloved children … talk talk talk always this yin-yang talk … if I hadn't stepped on his small tiny feet he would have continued for hours … that's the way small people are … talk talk talk is what they do to compensate … it makes me fell as there were billions of voices inside my head … everywhere … many many tiny yin-yang people … where do they all come from … hopefully they won't all jump at once … my advisors says that the earth then would roll into the sun … pew not good not good … all those red haired people with such sensitive skin … think about them … think about your president … uh uh I could eat some hot sauce barbecue …
Mr. President, it's time …
… I know I know … but first I have to solve the Chinese threat … it's for sure an impressive weapon the Chinese have when mobilizing all those feet … if each Chinese were a golf ball they would reach around the world one and a half time … one jump and the world would be split in half … I have to talk with my advisors about this … they could help lift this heavy Chinese burden of my head … together we could carry it into my cabinet … close the door … dim the light … if it became public … the angry democrat thugs would not hesitate to make it a major issue … I would be forced to do something about it … make promises … quick … before they all find out what's in the cabinet … I'll tell them whatever slips through my mind … you must not think, Donald … if you don't think of the Chinese … that will keep them away … d o … n o t … t h i n k … o f … t h e …
C h I n e s e … t h r e a t … strange so empty one's head feels without all these Chinese talking and walking around in there … but not for long … I have to act … repress the craving … no, I do not want any Chinese food … find that cheeseburger … sniff it out … act before the democrats discover the truth … uh, but what can I do … they will soon overrun us … I need a bigger cabinet … but will it be big enough … even their yin-yang wall is bigger than mine … uh uh uh … I know … I know … I'm funnier… everything is soooo big in China except the Chinese them-self, they are so tiny tiny small … haha Donald, you're the worlds funniest president … no no not now … there is no time to be funny, Donald … Donald, be serious … be for God sake the Chosen One … I will. I promise … I once put my hand on the holy bible and swore an oath about it … Donald, that is not funny … look, I've just put on my Serious Face … I will think … yes, I know why they are so many over there in yin-yang land … they are compensating for their lack of size by the numbers … oh oh and I know just what to do … God has touched my ding-dong … the whole world, rise and give me your attention … Donald knows about his ding-dong because right now he's touching it … I'll have to ask Boeing … that splendid American company … what a PR-stunt … those air plane guys can't turn us down … they owe us big time … we just need … let me calculate … uh uh ah oh uh ahhh right that sums up to sixty of their 747 plains … the idea is bullet-prof … golf balls … I repeat and spell it out just right: G O L F B A L L S … millions and millions of golf ball are flying before my eyes … all of them … the planes will be stuffed with golf balls … and just when all the Chinese get ready to jump … yes, they won't get one foot to the ground … they will hear some wruuummm wruummmmm and as many golf balls as there are Chinese will fall down from the sky making them stumble and topple all gagging while the rest of the world will have so much hilarious fun … ha ha ha thanks to you, Donald, Supreme President of Everything … and we'll put the whole show into the magic box and hand it over to the social media mafia … no, not the usual fake news … this will be the real reality stuff … with me … Your Favorite Supreme President pushing the Golf Ball Release Button … we will go super viral … no more need for my potency pills … billion of viewers … I'll be even more popular … could be elected World Supreme Leader … who wants to be President of the United States of America when he can have the whole world … if I thought hard enough, I would for sure get it … my supreme slogan: Freedom is a free golf ball to everyone … good business opportunity … I'll set up my own golf ball company … they will produce all the golf balls needed by the people … I'll have my advisors to do the business plan … they will say we cut everything down to nothing … we only do the thinking … the lowest production costs would probably be in yin-yang land … well there they are again … can't live with them or without them … they'll even re-sell me the golf balls that fell from the sky above them … so smart … so cunning, these yin-yang people are … we Americans could for sure learn one or two things from them … I'll take some of the smartest yin-yang people with me into my cabinet … they could be good advisors … I'll have to sit outside myself … there would not be room enough for all of us … I'll also have to feed them some of these tiny communist spring rolls … there should be enough for everyone in the cabinet … no good thoughts has ever come out of an empty stomach … I'll have to order some more take-away from China …
Mr. President … it's time to go!
Collage: Sila Yalazan
Text: Steen Andersen
***