PB43 Publishing House was founded by Steen Andersen and Marie Toft-Jensen in 2011 and published in April 2012 its first book, "Byen Bliver Til – En Urban Håndbog (The City Becomes – An Urban Handbook)". The book deals with, among other things, the visions and many experiences that have been accumulated in the Copenhagen project and grassroot environment over the past decade.
With its publications, PB43 Publishing House wanted to move forward and create debate about the use, development and understanding of the city. It happened by being a platform and opportunity for those with the good story, many experiences, visions and ideas.
PB43 Publishing House was a democratic tool that allowed project makers, entrepreneurs, artists, architects, designers, students and others with a professional and / or personal interest in the city and its people to have their voice heard through a respected media and a comprehensive distribution.
PB43 Publishing House has published the following books: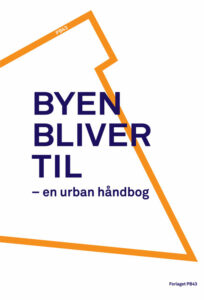 THE CITY BECOMES. AN URBAN HANDBOOK.
(BYEN BLIVER TIL. EN URBAN HÅNDBOG)
Below highway bridges, in parking lots, empty buildings and overlooked backyards, the city is explored and used in a different way. In the cracks of the city, temporary projects and small creative companies are sprouting: Non-profit galleries, carpentry and ceramics workshops, artist collectives, urban gardens and perfomative city walks are just a selection. These are places and initiatives that right now and here challenge the way we understand and use the city.
THE CITY BECOMES was nominated for Project of the Year at the KPH Awards 2012.
Editors and writers: Marie Toft-Jensen and Steen Andersen.
Contributors: OHOI !, N55, Bureau Detours, Prags Have, Bolsjefabrikken, Mark Vacher, John Andersen, Kristine Samson, Kristine Munkgård Pedersen, Kitt Johnson m.fl.
Language: Danish
Pages: 352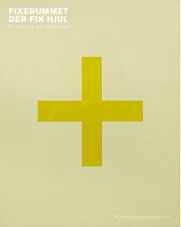 THE FIX ROOM THAT GOT WHEELS. A STORY OF DIGNITY.
(FIXERUMMET DER FIK HJUL. EN HISTORIE OM VÆRDIGHED)
On 12 September 2011, the Fixelance – a rebuilt ambulance – rolled out for the first time and opened its doors to street drug users on Vesterbro in Copenhagen.
The nervousness was palpable, and the atmosphere intense among the many volunteers in the Fixerum Association, who had put time, heart and work into reaching this important day. Here, a simple solution to a long-standing problem should finally stand the test. What would happen? Would the police close the mobile fixer room? Would the drug users want to use it? How would the locals react? And what about the politicians, the municipality and the media?
"THE FIX ROOM THAT GOT WHEELS. A STORY OF DIGNITY." is the story of how, after 35 years of struggle, it finally succeeded in creating a fix room for the benefit of both residents and drug users.
Editors: Steen Andersen, Ole Hoff-Lund, Michael Lodberg
Authors: Ole Hoff-Lund, Steen Andersen et al.
Language: Danish
Pages: 132
Press::
"A fix in peace" – P1 – Non-fiction
"When did you last help a drug addict" – Politiken
"Slightly less unhappiness" – Danish Municipalities / NO. 6/2013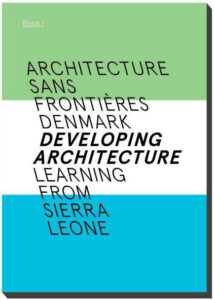 DEVELOPING ARCHITECTURE. LEARNING FROM SIERRA LEONE
A book about the work and visions of Architecture Sans Frontières Denmark. What role does architecture have in a developing country? How do architects work outside their own culture? How does one manage building projects on foreign soil? How can iconic buildings promote social change? This book is about the work of Architec-ture Sans Frontières Denmark in Sierra Leone between 2008–2013. It showcases five projects from several angles — the architectural, the tectonic, the social and the academic, whilst providing a forum for the different participants' points of view. Together, the projects show what can be — and has been, learnt about architecture and building when working in foreign contexts, in this case Sierra Leone.
Winner of the annual architecture prize Little Arne of the Year 2014.
Editors: Tyra Lea Amdisen Dokkedahl, Frida Sophie Vang Petersen, Jens Dan Johansen og Steen Andersen
Authors: Niels Bjørn, Kristian Kreiner, Jørgen Andreasen, Jørgen Eskemose Andersen, Peter Albrecht, Tyra Lea Amdisen Dokkedahl, Steen Andersen …
ISBN: 978-87-995068-7-3
Language: English
Pages: 96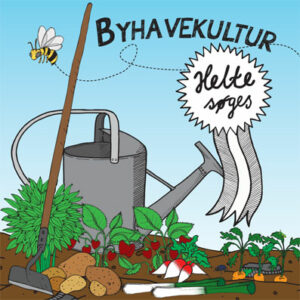 URBAN GARDEN CULTURE. HEROES WANTED.
BYHAVEKULTUR. HELTE SØGES.
"Urban garden culture. Heroes wanted "is the story of the small scale with the great potential. A book about making city gardens and getting things started – written by them with their hands in the cities soil. City gardens are places in the city where neighbors, friends, colleagues and people who do not know each other meet and new acquaintances emerge while the city is given more vegetation and life. One of the goals of urban gardens may be to become fully or partially self-sufficient in vegetables, another goal may be more social activities in a local area. For others, it is important to spread knowledge about cultivation, sustainability, ecology, permaculture and more, while others want to build, play or make cultural events.
This book is therefore a guide to more than just keeping a garden.
Download English version of book
Download Danish version of book
Editors: Pernille Kofoed and Steen Andersen.
Contributors: Byhaven 2200, Adopt-a-box, Prags Have, PB43, Institut for (x).
Illustrator: William Thiemer.
ISBN: 978-87-995068-4-2
Language: English // Danish
Pages: 30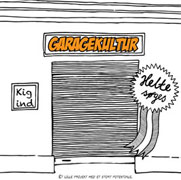 GARAGE CULTURE. HEROES WANTED.
(GARAGEKULTUR: HELTE SØGER)
Garage culture is a place where you can mess around and make noise. A place where happy entrepreneurs, artists, craftsmen, municipalities, landowners work side by side. Together, they create space for activity and growth. This book will give you the basic tools and an overview of the possibilities of developing projects and giving life to empty buildings in your city based on the concept Garage Culture.
This is the story of the small scale with the great potential. And then it's based on a true story.
Download English version of book
Download Danish version of book
Editors: Pernille Kofoed and Steen Andersen.
Contributors: Department of (x), Givrum.nu, PB43 and Re-Ride.
Illustrator: William Thiemer.
Language: English // Danish
Pages: 30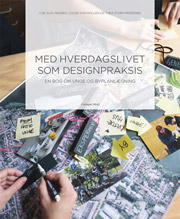 WITH EVERYDAY LIFE AS A DESIGN PRACTICE
(MED HVERDAGSLIVET SOM DESIGNPRAKSIS)
A book about young people and urban planning. Young people are often not involved in planning of our cities. The first Danish debate book on young people and urban planning demystifies working with young people. The book captures a variety of young people's perspectives on the city and looks at how the methods of involving young people in planning can be re-thought and designed. It requires new methods, a willingness to experiment and to involve – and other – actors.
"Politicians and planners actually want to listen and they think our views are important. It is up to us to live in what they want to create and therefore they also need to hear what we have to say. " (Christine Mårtensen, 14 years, participant in CityLAB).
The authors: Lise Juul Madsen, Louise von Müller and Thea Storm Pedersen.
Editors: Steen Andersen (editor), Lise Juul Madsen, Louise von Müller and Thea Storm Pedersen.
Layout and graphic design: Birgitte Heide Sørensen
ISBN: 978-87-995068-8-0
Language: Danish
Pages: 204